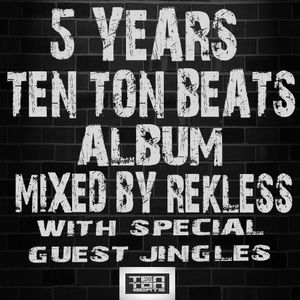 . 
.
Back in 2011 Rekless ex New Breed DJ and former partner over at Cyntax Error Records decided he wanted to forge his own path in drum and bass, already an in demand DJ playing right across the UK and Europe, he used the contacts he had made along the way to create Ten Ton Beats an off shoot of his Ten Ton of Bass events that were running quite successfully in Essex. 
First signing was Dangerous, they had crossed paths a lot on the breakthrough circuit and it just seemed to be the right fit, next up Rekless got a demo come through from a certain DJ Dusty whose track 'Illusions' put TTB on the map by getting an incredible 8 week run by none other than the mighty Grooverider on his legendary Radio one show, since then a lot of artists have passed through the TTB doors, Samy Nicks & Rekwest were signed very early on in their career and have gone on to release on a variety of huge labels, Neutronic beats head honcho Manga was also drafted in quite early on and still continues to write for the label today, other artists include Substainless, Eazy, Certified Sickness, Shrust, Steampunk and more recently Damageman and Rob Soundline. 
The ethos behind the label has always been to give little known talent a platform to grow, fast forward 5 years and a high majority of producers who have had releases on TTB are either topping the charts under the TTB banner or have gone on to great success elsewhere, so the ethos works and is how Rekless continues to drive the label. 
To celebrate 5 years and 50 releases an LP had to be put together, but the LP had to have adequate representation on Ten Ton Beats over the years, artists such as Samy Nicks has taken time out from his schedule to produce something for the label, Dangerous has also stepped in with a particularly weighty banger alongside Fraksure called 'Missing in action', even the man in the big chair at TTB Rekless has returned to the studio alongside Damageman to make something special to celebrate with a jump up tear out called 'Be Careful', Rekless even drafted in Dusty who submitted a very Dusty'esq banger called 'Bug Bomb'. This LP is 15 tracks strong with each standing its own ground which is why it makes such a good mix. Some very special guests are on jingle duty giving this mix a bit of gravitas. The full LP release has been pencilled in for September so make sure you keep an eye out for it in download stores worldwide, but for now download this cheeky little mix from TTB's very own Rekless.